There is a growing movement towards establishing what's called a "Constitutional County." This presents itself as a resolution passed by the legislative body within the county. There's nothing that says similar resolutions cannot also be adopted by other municipal bodies like towns, villages, school boards, or even fire districts.
The concept of "Constitutional County" implies nullification. The adopting body simply states it will not use any assets to support state or federal interventions that are contrary to the United States Constitution. While this may mean nonenforcement, ultimately a Constitutional County will rely on the court process to support its stand. This is similar to what occurs all the time whenever government laws, regulations, or other actions are challenged in court.
Declaring one's county a Constitutional County merely reaffirms what counties (and other municipal entities) can already do, only it says it with more vigor.
What follows are links to Powerpoint presentations outlining the reasons for and the process to becoming a Constitutional County. We'd like to thank Brenda Hanson for preparing these and allowing us to share them. Brenda was one of the instrumental leaders who shepherded the Constitutional County resolution in Cattaraugus County, which passed unanimously with bipartisan support.
Click here for slides of Constitutional County Movement Presentation for Citizens
Contains a step-by-step process similar to the one used by Cattaraugus County's successful bipartisan effort to become a Constitutional County.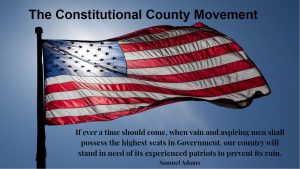 Click here for slides of Constitutional County Presentation for Legislators and Elected Officials
Contains a comprehensive guide including the actual resolution used by Cattaraugus County and a thorough explanation of the reasoning behind the resolution. If you'd like to download a .pdf version of the resolution alone, click here.